Employees in These Industries Admit to Sleeping at Work
Study shows which employees tend to do it the most
"Probably the primary reason people are falling asleep in the workplace is related to sleep deficiency
or sleep deprivation," said Dr. Richard Gillum, a dentist and sleep apnea expert in Greenwood, Ind.

By Elaina Loveland May 25, 2018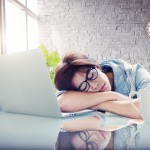 Tech workers. Construction workers. Government workers. What do all these employees have in
common? Many of them are falling asleep on the job.
One in 5 employees reported sleeping at work, according to a recent survey of more than 1,000
employees across various industries conducted by Amerisleep, a mattress company based in
Scottsdale, Ariz.
Seventy percent of tech workers—the highest percentage of all workers surveyed—admitted to
sleeping during work hours and reported spending more than 11 percent of their workday sleeping.
The construction industry had the next highest percentage of workers who reported sleeping on the
job—68 percent, even though 66 percent of them admitted that sleeping while at work is
prohibited.  Other industries where more than 50 percent of employees reported sleeping at work were
government and public administration, finance and insurance, information services and data
processing, manufacturing, transportation and warehousing, and medical and health care.
Reasons for Being Tired at Work
Stressful jobs may be causing sleepiness at work.
"While most people associate tiredness and fatigue with exercising the body, it can also be caused by
exercising the mind," explained Steve Wang, an HR consultant based in Chicago. "Certain jobs that
require heavy critical thinking and technical expertise exhaust the human brain. As a result,
employees [who are] constantly put in these types of scenarios are more prone to falling asleep at
work."
A 2017 Gallup report showed that 70 percent of U.S. employees are disengaged at
work, which also might contribute to workers falling asleep on the job.
"I'm sure there are employees who fall asleep because they are disengaged or not into their work,"
Wang said.  But, Wang said, most of the time employees are prone to falling asleep at work because they simply
aren't getting enough rest. People in the U.S. in general tend to be sleep-deprived, according to the
National Sleep Foundation.
"Probably the primary reason people are falling asleep in the workplace is related to sleep deficiency
or sleep deprivation," said Dr. Richard Gillum, a dentist and sleep apnea expert in Greenwood, Ind.
"When you have sleep apnea, you don't sleep well, so you're tired."
Is Sleeping on the Job OK—or Not?
There are instances when sleeping at work is permitted. For instance, an employee may make a
request under the Americans with Disabilities Act to nap periodically during the workday because of
a medical condition or treatment, according to Aaron Tandy, partner and head of the employment
law section of Pathman Lewis LLC in Miami.
But if a crane operator on a construction site falls asleep while on the job, HR professionals need to
talk with the employee and assess whether there's a safety risk involved, Tandy said.
"You should also have a conversation about whether their sleeping is part of a larger issue that needs
to be addressed by a doctor and therefore might ultimately need to be accommodated," Tandy said. "I
know of a company where one of the employees was found sleeping. It turned out that they were
suffering from migraine headaches. It turned out that those headaches were caused by an
inflammation on their brain. And, by having the conversation and confronting them
and actually sending them to the doctor, the employer, I think, contributed to their being still alive."
Using Nap Time at Work to Rejuvenate Employees
Some employers encourage sleep as a way for employees to recharge.
Jim Angleton, president for Aegis FinServ Corp., a financial firm based in Miami, decided that
providing a benefit for employees to nap at work was good for productivity and morale.
In 2014, he purchased a sleeping pod for his employees; 60 percent of his employees take advantage
of it.
"Employees use it during lunch hours to reserve a 20-minute nap and relaxation period. It refreshes
their eyes and resets their body clock," Angleton said.
Angleton said his employees working the night shift love the sleeping pod.
"Every company that is open 24/7 should offer this option," he said.
"We understand that working while tired generally decreases productivity, short-circuits
creativity and increases the frequency of careless mistakes," Wang said. To combat this, he noted,
some companies have a place where employees can go to take midday rests and breaks.
When to Discipline, When to Accommodate
When an employee sleeps on the job, a manager's first task is to ascertain the reason for the fatigue: Is
the worker hung over because of late-night partying or a second job? Is he suffering from a medical
condition such as narcolepsy or sleep apnea? Does she use prescribed drugs or undergo medical
procedures that leave her tired? Is he experiencing unusual stress or anxiety that makes it hard to
sleep? Perhaps life events—like a newborn—mean the worker is pulling all-nighters.
Once a manager has identified the reason for the sleepiness, the next task is deciding how best to
address it—whether that means discipline, support for the worker or something else.
Credit:  Elaina Loveland is a freelance writer based in the Washington, D.C., metropolitan area.