Digital X-Rays (Radiography)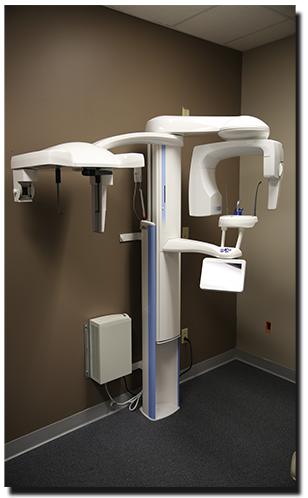 Digital X-rays help to provide faster, more convenient images and greater detail for a more accurate diagnostic capability. The process is more comfortable, and you can instantly view, along with your dentist, enlarged images on a computer screen. You see what your doctor sees, which allows you to better understand your treatment.
For years with digital radiography there have been issues regarding image quality in comparison to film – side by side, film just looked better. In favor of the diagnostic advantage of film, Gillum Dentistry resisted for years converting to digital radiography. In the last year or so digital image quality has finally increased to the point where it is equal to or greater than film. In December of 2014 Gillum Dentistry, convinced that the image quality was finally superior to film, converted to full digital radiography with the state of the art Planmeca digital radiography system which can take 90% of your X-ray images without ever placing any sensor or film in your mouth. Kids and adults alike love it.
High definition digital radiography is one of the most important advances dentistry has seen in recent years. The capability to reduce the exposure of radiation to the patient while increasing diagnostic quality and proficiency has astounding implications.
The reduction of chemical waste is also a big consideration. At Gillum Dentistry, we strive to be "green," that is, environmentally responsible. The elimination of the chemicals associated with film radiography as well as the reduction in radiation benefit our environment, staff and our patients.
Digital radiography systems reduce radiation exposure by up to 80 percent compared to film-based systems. Digital radiography conforms to the ALARA principle: As Low As Reasonably Achievable. ALARA mandates that every possible method of reducing exposure to radiation should be used to minimize risk for the patient and operator alike.
Unlike film, digital X-ray images can be enhanced to assist in making a precise diagnosis. Images can be magnified, sharpened, colorized, or displayed as a negative. These software-controlled enhancements optimize the image but do not alter the data – you can always "go back" to view the original image.The X-rays are stored in the patient's digital file, and can be brought up and viewed instantly anywhere any time at a later date. Transferring images to specialists via email is a tremendous advantage.
Check out the digital advantage at Gillum Dentistry today.
Request Appointment Today
317.888.7576
Full Service Family Dental Practice in Greenwood, Indiana:
Cosmetic Dentistry, Snoring & Sleep Apnea, Six Month Smiles, TMJ/Facial Pain, Root Canals, Veneers, Dentures & More.